Tell us your dreams & leave the details to us! Call 850.292.9005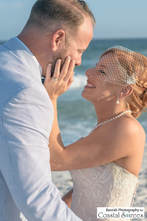 Congratulations on your engagement! This is the time of your life & we are incredibly honored & moved every time that we are chosen to contribute to this most sacred of days. Rest assured that we surround ourselves with the top creative, detail oriented, organized, particular & meticulous professionals in the business so that you can relax & savor this magical time in your life. We're hopeless romantics & we love what we do!
​
Coastal Soirees is a full service wedding planning & design company. You can choose from a one of a kind experience spun from your dreams & transformed to reality on your wedding day by Coastal Soirees. We are also proud to offer a unique collection of gorgeous wedding packages that have redefined what the package wedding looks like. - Think luxury, unique & elegant. Just imagine your idyllic wedding on the sugar white sands of the Gulf Coast or dockside at an elegant coastal home, even under the live oaks in a romantic southern garden. ~ Tell us your dreams and leave the details to us.
---
Your dream destination wedding is closer than you think.
GETTING HERE